2019 Historic Paddle: Cultural Heritage Tour (7.9 miles)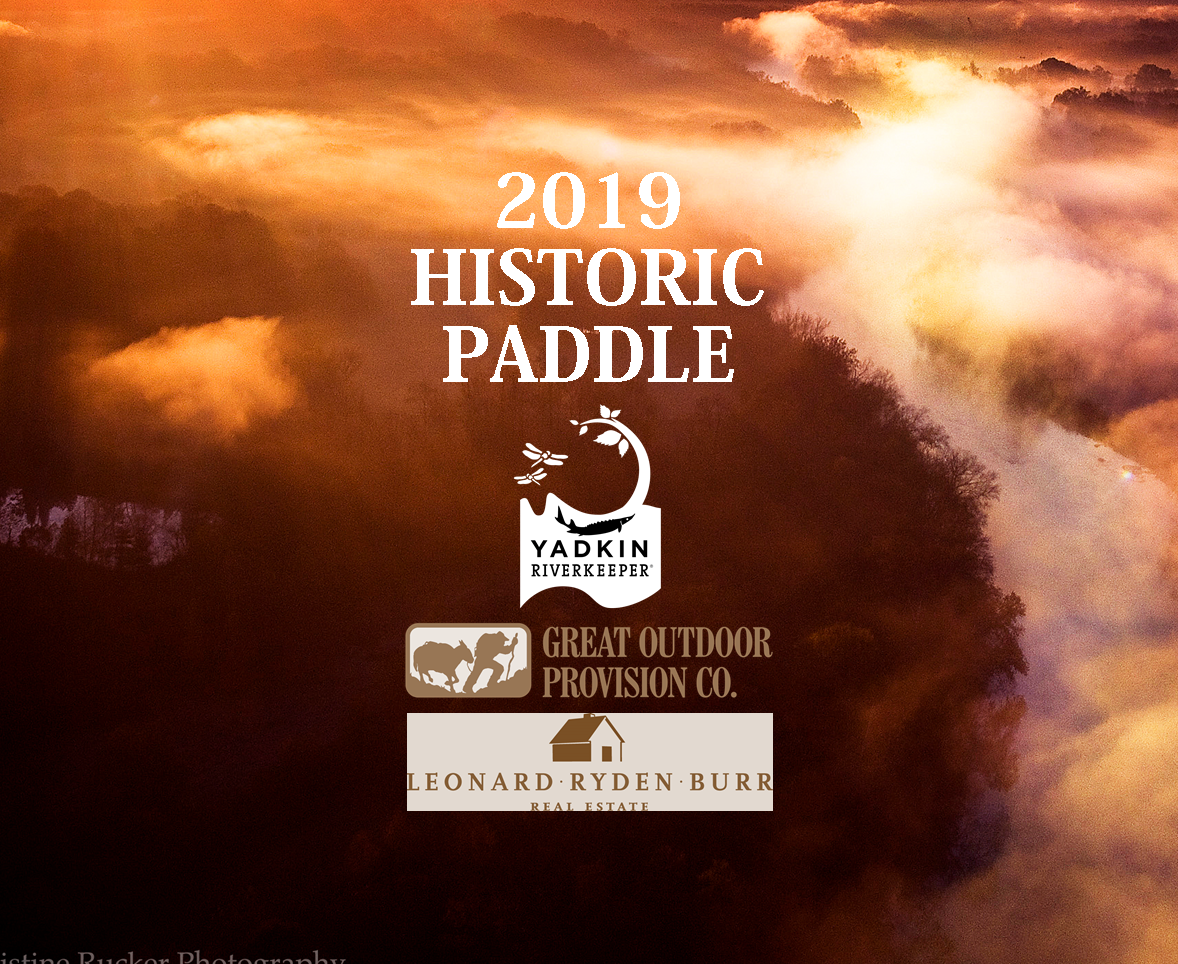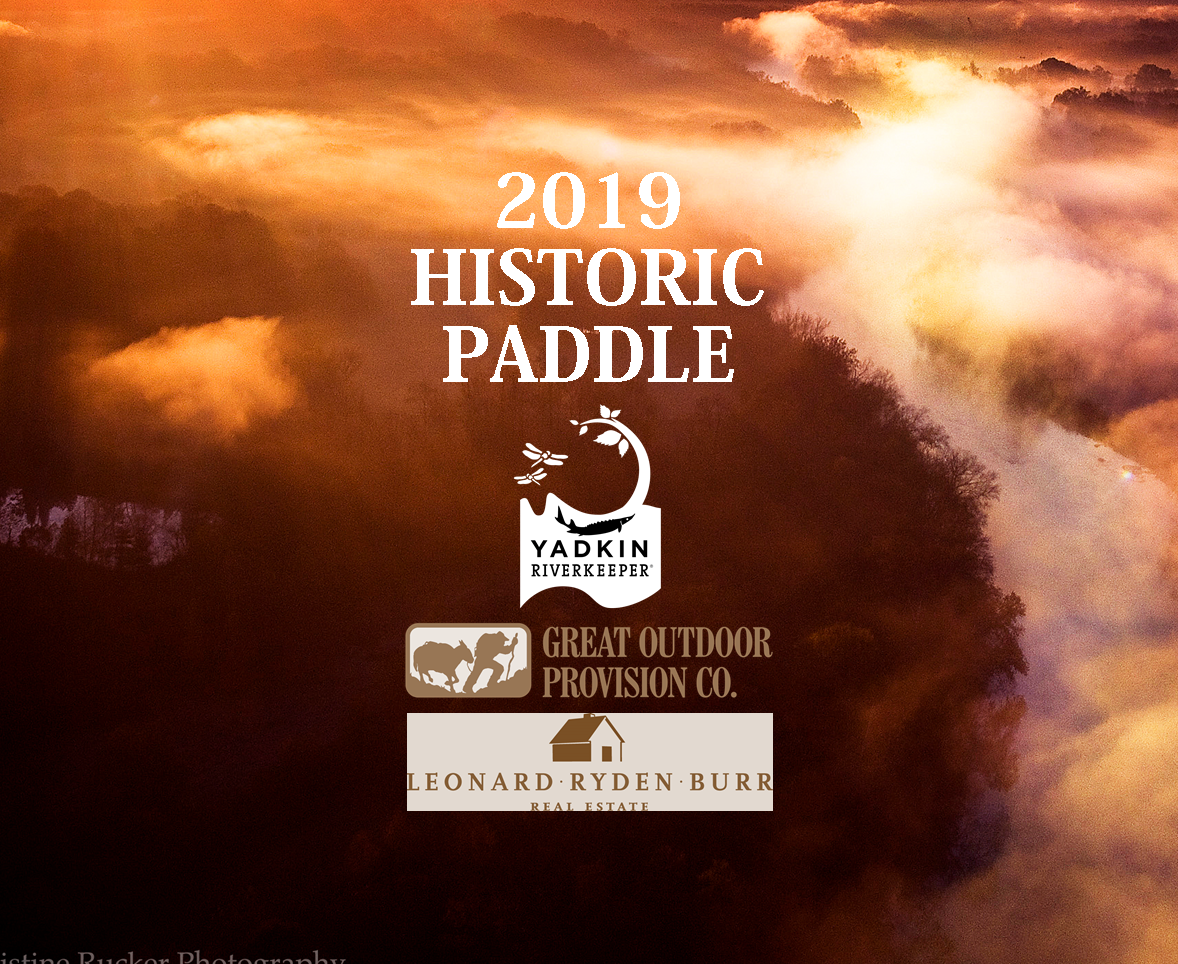 sold out
2019 Historic Paddle: Cultural Heritage Tour (7.9 miles)
EVENT DATE: September 7, 2019, 11:30AM-3:30PM
Join Yadkin Riverkeeper for our member-only Historic Paddles that explore the history of the Yadkin River. This year's TOUR is sponsored by Great Outdoor Provision Co and Leonard Ryden Burr. Supporting sponsors include Ilderton, Piedmont Triad Regional Council Bob Pate Memorial Fund for the Yadkin River, Carolina Heritage Vineyard & Winery, High Rock Outfitters, Foothills Brewing and Waterkeeper Alliance.
The put in on the Roaring River is the site of an early 1900s power dam built by Southern Light Company, which provided power to the Roaring River Community before most others in the area, including North Wilkesboro. It operated until the 1916 flood destroyed the generating equipment. A gristmill was built on the site in 1926 and operated until the 1940 flood destroyed it. Parts of the equipment are still visible at the site. Further downstream we will pass remains of the original bridge (also destroyed in the 1940 flood). Once in the main Yadkin River the route goes past several fish weirs, likely originally Native American and later reworked by settlers in the area. The river takes a great curving path around Revolutionary War hero Benjamin Cleveland's farm, known as Roundabout. This property has been owned by the Chatham family for many years, and with a considerable amount of restoration and preservation work being done on the houses and land. After making the circle around the farm we will take out at Ronda. The float should take about 2-2.5 hours, depending on river flow.
For participants in our members-only paddles, boats will be provided free of charge.
REGISTRATION IS REQUIRED. Registration closes on September 5, 2019.
PADDLE TICKETS ARE LIMITED. YOU MUST BE A MEMBER OF YADKIN RIVERKEEPER TO SIGN UP.
IMPORTANT FOR REGISTERED PADDLERS:
This is a 2.5 hour paddle.
Meet at 11:30 AM at the Roaring River Canoe Rentals, 462 Cotton Mill Rd, Roaring River, NC 28669.
Lunch is at NOON, and we'll be on the water by 1PM..
Note: Personal Flotation Devices (PFD's) are REQUIRED for all paddlers. PFD's are included in your kayak or canoe rental; however, if you are supplying your own boat, please bring a PFD. All paddlers are required to sign a waiver; if you have a minor child, the waiver must be signed by a parent or guardian.
Disclaimer: All Yadkin Riverkeeper Paddle Trips are subject to change. Times and availability are flexible due to weather, flood gauges, and other circumstances beyond our control. Please allow extra time based on river conditions. All ending times are estimates. Yadkin Riverkeeper Paddles are alcohol-free. Please keep in mind that paddle trips average 3 miles per hour once on the water.
Questions: Contact Katie Wilder, 336-722-4949, info@yadkinriverkeeper.org.
**Don't forget to sign up for your paddle ticket AND reserve your boat (if you are using ours)!