2019 YRK TOUR: Summer Solstice Paddle & Potluck (9 miles)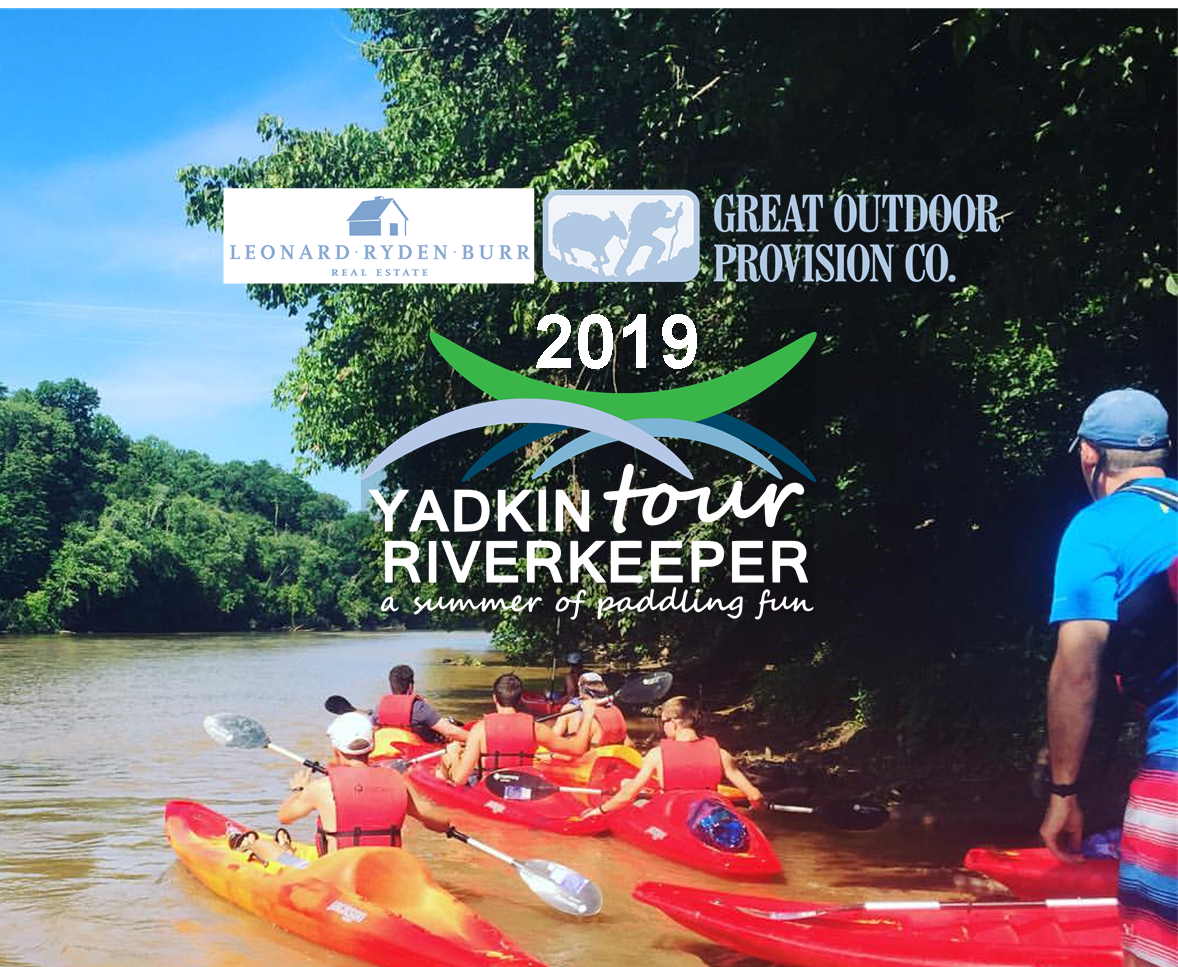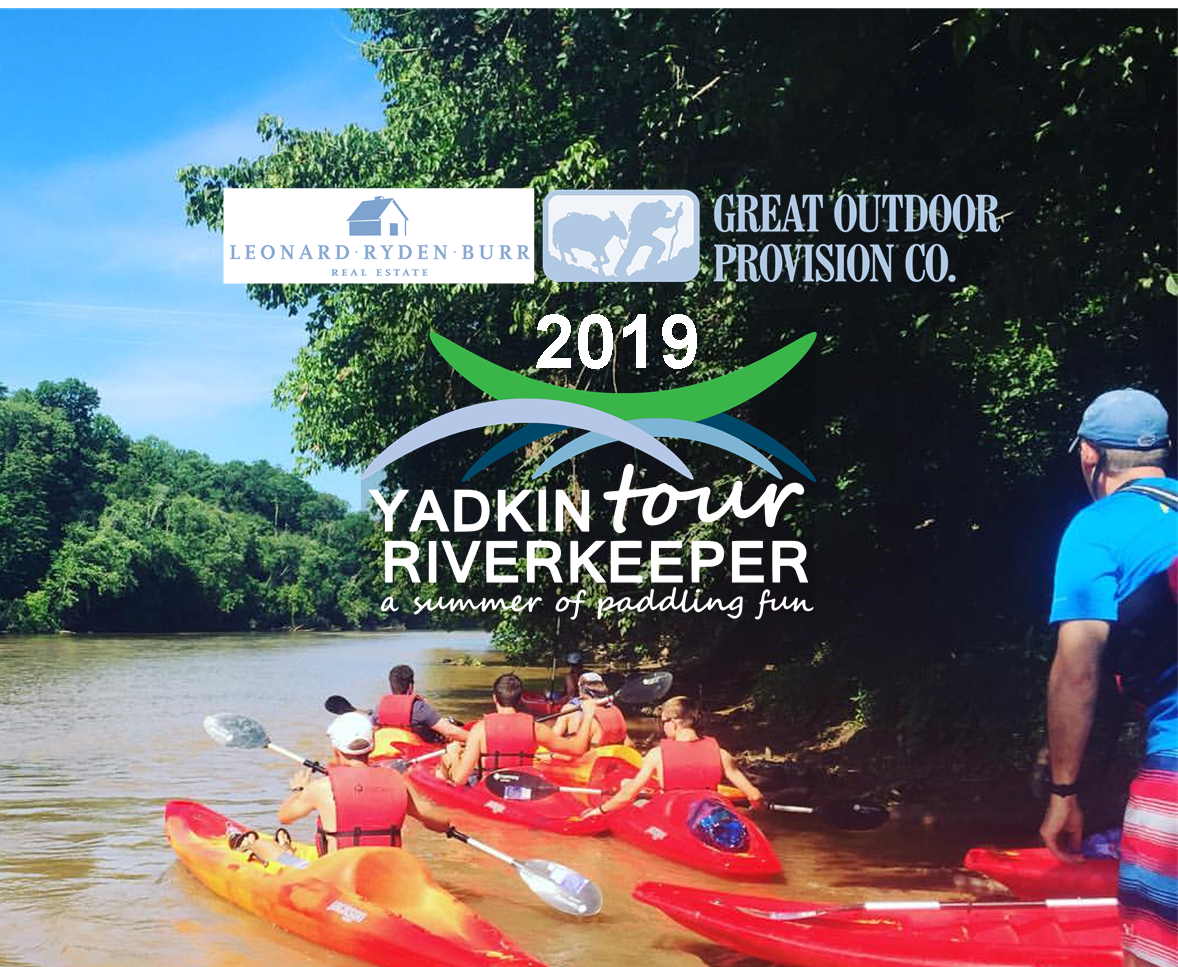 2019 YRK TOUR: Summer Solstice Paddle & Potluck (9 miles)
EVENT DATE: June 23, 2019, 1PM
YRK Members, Ken and Christine Putnam, host a summer solstice paddle and potluck with live music. Everyone is encouraged to bring a dish to share. Free wine and beer provided. Paddle starts at a private access on the River, with takeout and dinner at the Putnam's home.
This year's TOUR is sponsored by Great Outdoor Provision Co and Leonard Ryden Burr. Supporting sponsors include Ilderton, Piedmont Triad Regional Council Bob Pate Memorial Fund for the Yadkin River, Carolina Heritage Vineyard & Winery, High Rock Outfitters, Foothills Brewing and Waterkeeper Alliance.
REGISTRATION IS REQUIRED. Registration closes on June 20, 2019.
Paddlers with their own boats are charged a fee per person per day to cover insurance, shuttle, processing fees and entry to post-paddle events. If you have paid your Yadkin Riverkeeper Membership Fee ($35), the paddling fee is discounted. There are discounted fees for volunteer to help with event logistics.
Don't have a canoe or kayak? Yadkin Riverkeeper has negotiated preferred rates for kayak rental. Rental charges are in addition to your entry fee.
IMPORTANT FOR REGISTERED PADDLERS:
This is a 3+ hour paddle.
Registration opens at 12PM at the Putnam house, 4169 Scott Rd, East Bend, NC 27018.
Paddle starts at 1PM.
Music starts at 4PM. Don't forget to bring a dish to share!
WE NEED VOLUNTEERS
Volunteer on LAND: You will help with parking, registration or loading boats onto trailers. If you volunteer during this time, you will be able to paddle for a discount (boat rental fees apply).
Volunteer on WATER: 1-5:30P. You will be assigned a group of 10-15 paddlers to guide down the river. You must be an advanced paddler, very good swimmer and be familiar with boat safety and first aid. We will call to check your qualifications prior to the paddle. If you volunteer during this time, you will be able to paddle for a discount (boat rental fees apply).
Volunteer to Drive Shuttles: 12-1:30P. You will drive 12-person shuttle vans. These vehicles drive just like a car. Drivers require a valid NC driver's license. You will be able to paddle for a discount (boat rental fees apply).
Come to the Post-Paddle Party: Bring a dish to share! There will be live music.
Note: Personal Flotation Devices (PFD's) are REQUIRED for all paddlers. PFD's are included in your kayak or canoe rental; however, if you are supplying your own boat, please bring a PFD. All paddlers are required to sign a waiver; if you have a minor child, the waiver must be signed by a parent or guardian.
Disclaimer: All Yadkin Riverkeeper Paddle Trips are subject to change. Times and availability are flexible due to weather, flood gauges, and other circumstances beyond our control. Please allow extra time based on river conditions. All ending times are estimates. Yadkin Riverkeeper Paddles are alcohol-free. Please keep in mind that paddle trips average 3 miles per hour once on the water.
Questions: Contact Katie Wilder, 336-722-4949, info@yadkinriverkeeper.org.